27.08.2016 // Sascha Ciccopiedi @ The Shining Events pres TIMEOUT at BIG Secret Location, Achern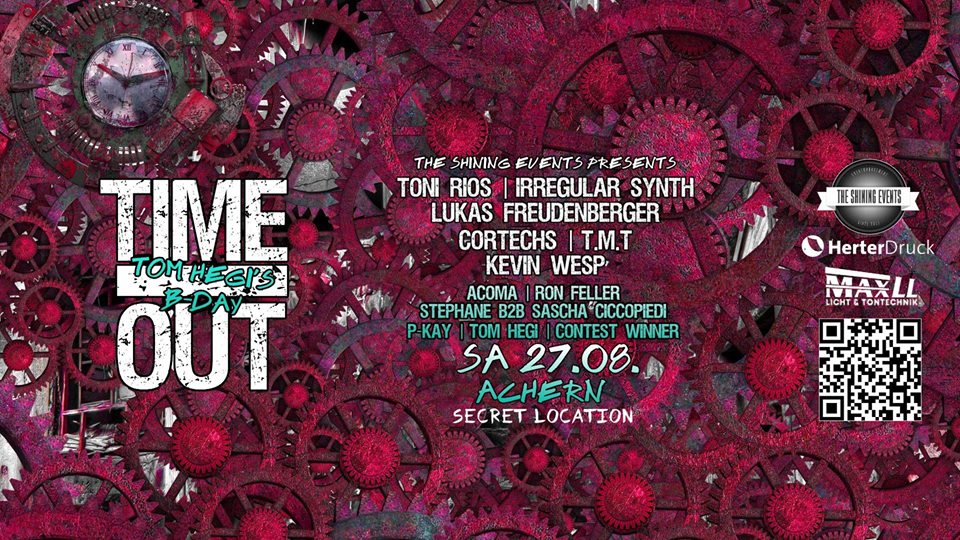 The Shining Events pres TIMEOUT (Tom Hegi´s B-Day)
_______________________________________________________________________
WANN: Samstag, den 27.08.2016
WO: Big Secret Location in ACHERN (weitere Infos folgen!)
(2 Floors Techno / Techhouse + Chill Out Area In + Outdoor)
START: 22 Uhr > inkl. Afterhour
_______________________________________________________________________
LINEUP:
>> TONI RIOS
>> (Cocoon // Blufin // The Wildclub)
>> IRREGULAR SYNTH
>> (MB Elektronics // Abstract // Driving Forces)
>> LUKAS FREUDENBERGER
>> (Inside // Stabil)
>> CORTECHS -live-
>> (Nachtstrom // Naked Lunch // Inside)
>> T .M. T
>> (Timo Mandl Techno // S!ick Stuttgart // Schwabentech)
>> KEVIN WESP
>> (yBooking // Meiht // HRT MDS)
support on 2 BIG Floors by:
>> SASCHA CICCOPIEDI b2b STEPHANE
>>(Glanzlichter // Overdrive Rec.)
>> ACOMA
>> (Groove Technology // EKVH // Speed Pilots Festival)
>> RON FELLER
>> (Synchro Roots)
>> P-KAY
>> (The Shining Events)
>> TOM HEGI >> B-Day Set
>> (The Shining Events // Speed Pilots Festival 2016)
>> 1 x CONTEST WINNER (Techhouse)
__________________________________________________________________________
Am Samstag, den 27.8.16 ist es wieder soweit 🙂
Tom Hegi wird wieder ein Jahr älter u läd mit seiner Shining Events Crew zu seiner B-Day Feierei ein. Bekannt wurde seine B-Day Sause als 40 Std. Alarm im Inside in Emmendingen. Nach der Schließung fand er im Bambii in Freiburg ein neues zu Hause was leider nun auch geschlossen wurde.
Da es so nicht weitergehen kann ist es Zeit für neues!
Es wird Zeit für ein TIMEOUT!
Auf der Suche nach einer einmaligen Location sind wir in ACHERN fündig geworden! 🙂
Ein paar Minuten Fussweg vom Bahnhof in Achern entfernt steht nun eine fette B-Day Feierei in den Startlöchern!
Was noch fehlt seit IHR !!!
Gefeiert wird auf 2 richtig fetten Floors (Techno + Techhouse)
Dazu gibts noch eine Chillout Area (IN+OUTdoor)
Los gehts ab 22 Uhr inkl. Afterhour!
______________________________________________________________________
FAKTEN:
>> 12 Std. Feierei
>> 6 Mainacts
>> 6 Regioperlen
>> 2 Floors (Techno // Techhouse)
>> Chill Out Zone (IN + OUTdoor)
>> Big Lasershow
>> faire Getränkepreise
>> Eintritt 15,- inkl. Afterhour
_____________________________________________________________________
BIOGRAFIEN der Mainacts:
TONI RIOS:
Ein Epos des Techno-Genre. Eine Karrieregeschichte, wie sie im Buche steht und ein Mann, dessen spanisches Temperament auch nach fast 25 Jahren nicht an Wirkung verloren hat. Begonnen hat alles Ende der 80er in dem Club, der nicht weniger Geschichte geschrieben hat wie die DJs die ihn bespielten: das OMEN in Frankfurt. Mit jugendlichen 18 Lenzen und dem richtigen Gefühl für den Sound, der ihn ausmacht und dem er bis heute treu geblieben ist, startete er seine Karriere. Toni Rios ist ein bisschen Acid, ein bisschen Trance, ein bisschen harter Techno und mittlerweile eben sehr "modern". 1994 erschienen die ersten Release auf HARTHOUSE und EYE Q. Schnell wurde er fester Bestandteil der COCOON-Familie und schmiss diverse Techno-Bretter auf den Markt, die sich in vielen Plattencases wiederfanden. Toni eroberte die Welt mit seinem Stil, jettete zu den hippesten Clubs auf dem Globus und ist auch heute noch einer der bekanntesten Künstler in der Techno-Szene. Auf den Labels COCOON RECORDS, STRICTLY RHYTHM, BLUFIN, RECOVERY, VOLTAIRE MUSIC, MANUAL MUSIC, FEDERATION OF DRUMS, JERK, DANZA ELECTRÒNICA, DELIRIUM RED, CONTACT, KOMPAKT REC., KLING KLONG und seinem eigenen Label SOAP RECORDS erschienen in den letzten zwei Jahrzehnten kontinuierlich Platten, die den Zeitgeist und Toni selbst widerspiegeln. Er ist ein begnadeter Produzent, der auch anderen jungen Künstlern eine Plattform bietet, sich musikalisch zu entfalten. Toni Rios bespielt alle großen Events wie Timewarp, Mayday, Nature One, SMS, Tomorrowland, Mysteryland und I Love Techno. Im Oktober 2014 steht ein Jubiläum an: 25 Jahre DJ Toni Rios! Das wird natürlich gefeiert. Und zwar mit einem 3er Pack Compilations, ein "Best Of Toni Rios" inklusive, und mit einer Tour ! "Tranquillo" kennt ein Toni Rios nicht, sein Rad dreht sich weiter …
LABELS
COCOON REC. / STRICTLY RHYTHM / FEDERATION OF DRUMS / JERK / DANZA ELECTRÒNICA / DELIRIUM RED / CONTACT / KOMPAKT REC. / KLING KLONG / SOAP RECORDS / HARTHOUSE / EYE Q / VOLTAIRE MUSIC / BLUFIN / MIXMAG RECORDS / MANUAL MUSIC / RECOVERY / ALMA REC. / JANOWITZ REC. / PHANTOM DECK RECK / TULIPA REC
WEBLINKS
http://www.myfavouritefreaks.com/artists/91-toni-rios.html
https://www.facebook.com/tonirios.soaprecords
http://www.beatport.com/artist/toni-rios/13630
https://soundcloud.com/jose-antonio-rios-ferro
http://www.residentadvisor.net/dj/tonirios
__________________________________________________________
IRREGULAR SYNTH:
Irregular Synth is a futuristing Italian dj and producer, really appreciated in the club scene worldwide. He started his DJing career when he was very young in Naples, one of the most generating cities where many famous techno DJs from. Today, thanks to his unique talent, his hard work and to his musical background, Irregular Synth is among in the most fast-rising stars with uncountable recognizable successes. He always focuses his attention on the dance floor, in order to let everybody live a special experience and a singular musical journey through his sound. His dj sets usually contains many original elements such as groovy vibes, melodies and last but not least powerful bass lines, all serving his big love, Techno. Irregular Synth is also a prolific producer and his latest tracks were released on some big international labels like MB Elektronics, Driving Forces, Respekt Recordings, Naked Lunch, Loose, Advanced and many more, being supported from the greatest legends out there. Keep your eyes on, because Irregular Synth is here to reach the stars and beyond.
__________________________________________________________
LUKAS FREUDENBERGER:
When Lukas started visiting Techno parties at the end of 2008 he directly knew that this sound would take a big part in his life…after one year PARTY PARTY PARTY he felt that it wouldn´t be enough only to celebrate the techno sound…HE WANTED TO MAKE IT ON HIS OWN!!!! With a small controller which was a present by a friend he started to learn every day and realized very soon that he has got some kind of talent… for earning more skills he decided to buy some used and old cd-players on ebay…with success!!!! His first sets in the Butan Club Wuppertal at the beginning of 2011 were mixed this way.
Starting with Minimal his sound became harder and harder until today….now it´s rough and dark Techno sound. In summer 2011 he began his first producer steps and a few weeks later he joined the internet radio "Bunker TV".
His first release has been in february 2012 on "Berlin Aufnahmen"… other releases with more and more banging Techno sound followed on labels like "Subwoofer Records", "Sound of Techno" or "HitMusik"… some kind of honor was the publication of the track "Dark Space" by Philipp Centro and Lukas Freudenberger on "BassTech Vol.2″…a Mix CD by Torsten Kanzler!
In spring 2013 he bacame member of Mike Maass´Black Circus Crew! And about one year later in summer 2014 he published his own techno label called STABIL.
TO BE CONTINUED….
Always Underground, just Techno!!!!!
Discography:
26th March 2012 – Lukas Freudenberger – Crackhead EP
[Berlin Aufnahmen VIP] 3rd May 2012 – Lukas Freudenberger, Strüvo – Dottered Voices EP
[Subwoofer Records] 21th May 2012 – Lukas Freudenberger, BrettHit, Tomtec – Ratingen bei Nacht (incl. Bonus Track "Opfer" by Bretthit & Lukas Freudenberger) [Sound of Techno] 31th May 2012 – Lukas Freudenberger, Philipp Centro – Galaxy Noize Ep [Subwoofer Records] 25th July 2012 – Philipp Centro – Distorted Silence EP (incl. Remixes by Plan-E, Paul Begge, MassimoMilianO, Lukas Freudenberger)
[GrooveSignal Records] 19th October 2012 – Daniel Gorziza – Goji Berries EP (incl. Remixes by Lukas Freudenberger, Dani San) [Fruit Records] 28th November 2012 – Philipp Centro – Noize Sounds EP (incl. Remixes by Mike Rud, Scizo, Lukas Freudenberger, Tim Muller, Marco Vinelli) [Naughty Pills Records] 24th December 2012 – Hit´s from the Block – (incl. Tracks by 2Loud, Stevie Wilson, Krizz Karo, Lukas Freudenberger, Tom Gotti, Recharge&Operate, Exhaust, Silvano Scarpetta, BrettHit, Tachini) [Hitmusik] 3rd January 2013 – Lukas Freudenberger – Techno Bell EP (incl. Remixes by Philipp Centro, Krizz Karo) [Clubtronica] 7th January 2013 – Lukas Freudenberger – Bad Grooves EP (incl. Remixes by Krizz Karo, Stevie Wilson, De Hessejung, Silvano Scarpetta, Sooper Trooper) [Sound of Techno Records] 27th February 2013 – Krizz Karo – Bad Reflection EP (incl. Remix by Lukas Freudenberger) [Brachial Kontakt] 14th March 2013 – Strüvo – Taste EP (incl. Remixes by Lukas Freudenberger, Krizz Karo) [Subwoofer Records] 15th March 2013 – Lukas Freudenberger, Krizz Karo – Total Demolition EP (incl. Remixes by Spastic DJs, Michael Kruck) [ReWashed LDT] 3rd April 2013 – Luix Spectrum – Black & White EP (incl. Remixes by Sickboy, Lukas Freudenberger, Krizz Karo) [Wicked Waves] 18th April 2013 – Lukas Freudenberger, Philipp Centro – B2B (incl. Remixes by Zombie In Progress, GO!DIVA, Nomad Spectrum, MassimoMilianO, Destroyer) [Brachial Kontakt] 2nd May 2013 – Lukas Freudenberger, Krizz Karo – Maschine EP (incl. Remixes by Peat Noise, Sebastian Groth, Jan Cooper) [Herzschlag] 5th May 2013 – Lukas Freudenberger, Bretthit – Konstrukted EP (incl. Remixes by Hystericmaniak, Drumloch) [De-Konstrukt] 6th July 2013 – Structures Vol. 26 – (incl. Track by Lukas Freudenberger) [Naked Lunch] 10th July 2013 – Extra Dry, Mick Scamo – EX01 EP (incl. Remixes by Lukas Freudenberger, Tonikkatitude) [Wicked Waves] 1st August 2013 – Lukas Freudenberger, Krizz Karo – Plasma EP [TK Records] my music:

http://www.mixcloud.com/Lukas_Freudenberger
http://www.facebook.com/lukas.freudenberger.dj
http://www.junodownload.com/art…/Lukas+Freudenberger/tracks/
http://www.beatport.com/artist/lukas-freudenberger/252676
__________________________________________________________
CORTECHS:
Uncompromising, Dark, Atmospheric. Techno!
That's the sound of Cortechs.
It did not take long until the unique sound of Cortechs
became attention in the global underground scene of techno music.
After multiple releases on various prestigious labels, Cortechs earned his rightful position among the most important producers and performers of the german underground techno movement.
With 3 solo long players. Loads of remixes, singles and side projects like "The Sphere" with Björn Torwellen or his new project called "d!st!nct" are guaranteeing constant output to deliver a intuitive performance live on stage!
So if you are looking for atmospheric and massive bassline tracks, make sure to look out for Cortechs!
__________________________________________________________
T .M. T :
00% TECHNO
║▌║││NACHT:FUG // S!CKtech Rec. // BassAudienz // PHTechno(PHT) // STUTTGART.::.║│║▌
Biographie: Timo Mandl –
Sein musikalischer Ursprung liegt in der GOA Szene in der er mit Hi-Tech/Forrest/Darkpsy und Dark Proggi aka "Zimt.Stern" und "Hyperpolytox" den Leuten schon den Kopf verdreht hat. Heute steht Er für Techno aus dem Schwabenland! Kurz : "SchwabenTECH!"
((Er ist Baujahr 83)),stammt aus dem schönen Remstal und ist ein Kind der 90´-und das hört man auch! Er skizziert seine Sets mit drückenden Bässen, marschierenden Kicks und einer Geschwindigkeit die kein Tanzbein ruhig stehen lassen! Aus schwäbischen Klassikern wie :Ted Teclebran oder Dodokay, Ernst & Heinrich, sowie Trash Klassikern, 90´ und und und, zaubert er Momente, die jedes Set einzigartig machen!
S!CK ist Trumpf!
Als ehemaliger Resident der Stuttgarter PartyLabels: "Verspielt Verspult" und "Nacht:fug" hat er sich sehr schnell in die Herzen seiner mittlerweile enormen Fangemeinde gespielt und nur nach kurzer Zeit die ganze Szene durch seinen charmanten Techno an sich gerissen und spielte mittlerweile mit diversen Größen der Szene in den angesagtesten Clubs!
Mit viel Liebe zum Detail hat etwas erschaffen was es in dieser Art noch nicht gab – Hart aber Herzlich!! … Verrückt!!…Unberechenbar!!…einfach S!CK!!!
Alles andere ist einfach nicht das Original!
Wenn man Techno lebt und Spaß an der Musik hat wird man ihn lieben!
__________________________________________________________
KEVIN WESP:
Seine Bio seht u vor allem hört Ihr am 27.8 🙂